PMP® Exam Prep Bootcamp
Online Instructor-Led
35 PDUs / Contact Hours & Instructor-Led

Course features
700+ Scenario Based Questions with explanation

2+ Quizzes per module with explanation

300 Situational Practice Question with Explanation

all 49 Process summary

Exam tips and tricks from experience + application

eBook per module

Application support

35 Contact Hours / PDUs

Access to Group whatsApp

Extra discount on other courses

Access to community

On job mentorship
Course overview
This PMP® Online Instructor-Led course provides comprehensive preparation to get you ready for the PMP® certification exam. It covers the latest PMP® exam content and includes interactive tools and resources to help you learn effectively and efficiently.

Empty space, drag to resize
EXAM PRACTICE included
This course provides an in-depth look into the PMP® exam, as well as practice questions and explanations to help students better understand the content and prepare for the exam.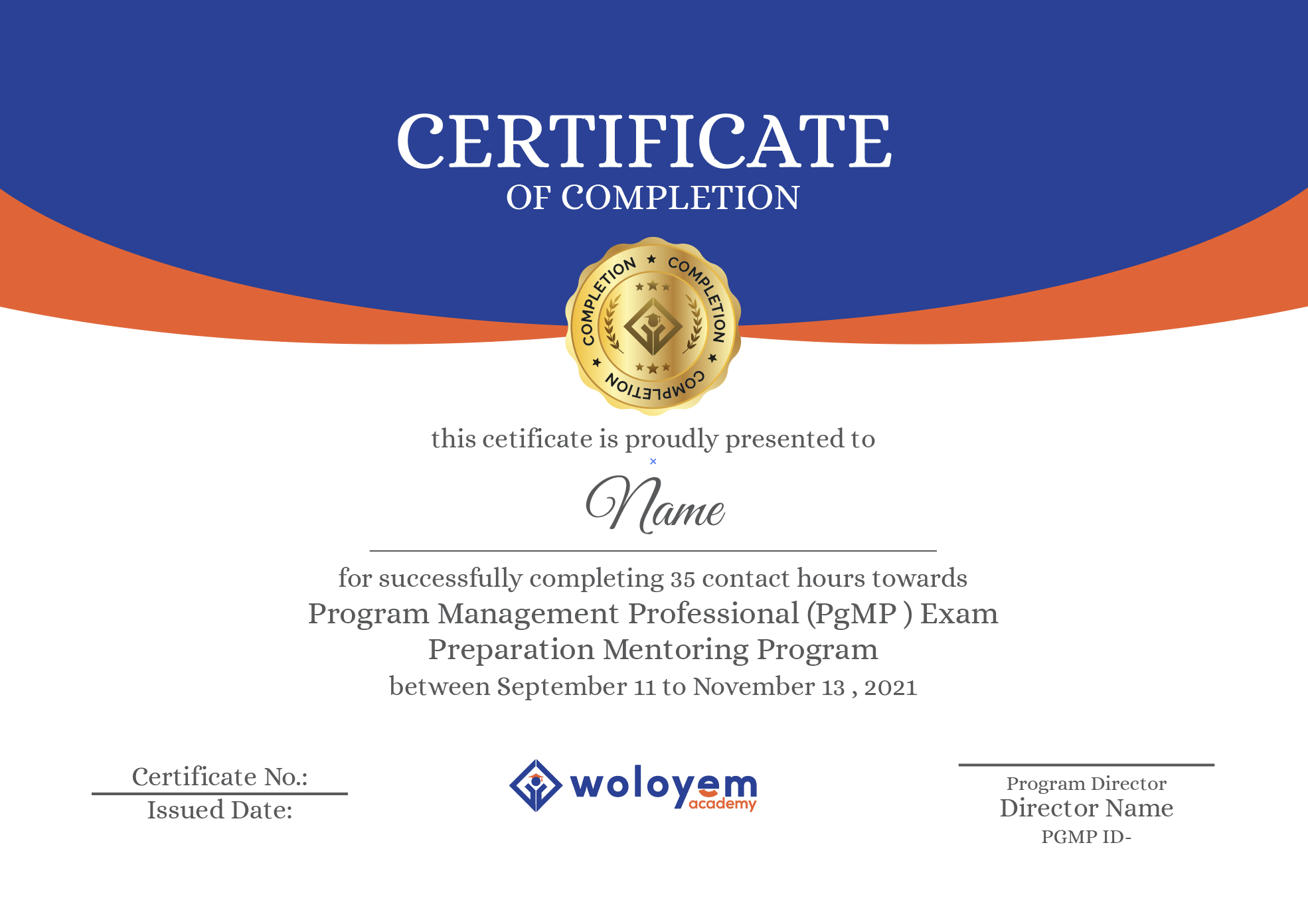 What's included in this online course?
A step-by-step guide
Join Woloyem's PMP Bootcamp for structured learning, clear guidance, and comprehensive exam preparation. Unlock your project management success!
Study in group
Experience the power of collaborative learning in our group PMP Bootcamp. Gain diverse perspectives, shared knowledge, and mutual support for mastering project management principles.
Unique learning experience
Master project management with Woloyem's unique PMP Bootcamp. Innovative teaching, practical case studies, and real-world examples create a dynamic learning experience.
Here is the process of the Bootcamp
Our bootcamps are virtual instructor-led training classes that last for 35 hours / PDUs, depending on the group you choose. We offer options for weekday evening classes, Saturday classes, or weekday working hour classes, or One-to-One On demand
You can check the training calendar or contact our support team for assistance in selecting the best option for you.
Step 1

- Enroll for the bootcamp of you choice

Once you are convinced about the terms and conditions, either through our self-service information or with the assistance of a sales representative, you can proceed to enroll for a bootcamp.
Step 2

- Attend classes
Once enrolled, you will receive detailed instructions on how the bootcamp will be conducted. You will gain access to a student dashboard where you can watch videos of previous sessions and access other helpful materials. Throughout the bootcamp, the instructor will guide you through the course content, providing guidance to help you understand and apply project management concepts in real-life scenarios and on the exam.
All-sessions are recorded for the student to revisit the class anytime.
Step 3

- Self-Study & Exam readiness

At this stage, you have completed the course and it's time to prepare for the next steps:

1. Submit your application.

2. Practice with the exam simulator to achieve an 80% score.

3. Request a one-on-one session with the instructor for clarification.

4. Follow the exam tips video for guidance.
5. Book your Exam date and location

Boost your confidence and feel prepared for the exam.
Step 4

- Take Exam & Let's celebrate

It's the big day for your exam, and you are filled with confidence. Give it your all and share your success with Woloyem, your friends, family, colleagues, and everyone who supported you along the way. Become Woloyem alumnus ( community ) with privilege pricing on next service
Benefits
Here are the learning objectives of our bootcamp
Understand PMBOK Updates
Develop a comprehensive understanding of the updated Project Management Body of Knowledge (PMBOK) Guide and the Exam Content Outline (ECO 2021) to stay up-to-date with the latest project management practices and exam requirements.
Understand different project Life cycles
Acquire knowledge and skills in both predictive and adaptive project management approaches, including traditional waterfall and agile methodologies, to effectively manage projects across various contexts.
Apply Project Management Principles
Gain proficiency in applying project management principles and best practices in hybrid project environments, integrating predictive and adaptive approaches to meet project objectives and stakeholder needs.
Understand the processes
Familiarize oneself with the five process groups and ten knowledge areas outlined in the ECO 2021, and their application in different project management methodologies.
Master Project Scope Management
Develop expertise in project scope management, including defining and managing project scope in both predictive and adaptive project environments.
Master Schedule Management
Master project time management techniques, such as creating schedules, managing dependencies, and adapting to changing project requirements in hybrid project scenarios.
Master Project Economy and Cost Management
Understand cost management principles, including cost estimation, budgeting, and cost control, in the context of predictive, adaptive, and hybrid project management approaches.
Understand and Apply Quality in Project
Enhance knowledge and skills in quality management, including applying quality assurance and control techniques in both predictive and adaptive project contexts.
Master Project Resource Management
Acquire proficiency in human resource management, encompassing resource acquisition, development, and management in hybrid project environments.
Importance of Risk Management
Develop a solid understanding of risk management principles and practices, including identifying, analysing, and responding to risks in both predictive and adaptive project settings.
Master Project Procurement
Familiarise oneself with procurement management concepts, including procurement planning, contract management, and supplier integration, in the context of hybrid project management.
Master effective communication
Enhance communication and stakeholder engagement skills to effectively communicate and collaborate in diverse project management environments, including predictive, adaptive, and hybrid approaches.
PMI Code of ethics and professional conduct
Emphasise the importance of ethical and professional conduct in project management, adhering to the PMI Code of Ethics and Professional Conduct across all project management methodologies.
Get ready blast and celebrate
Prepare for the Project Management Professional (PMP) certification exam based on the ECO 2021, with a focus on understanding and applying project management concepts and methodologies in predictive, adaptive, and hybrid project environments.
Chose your Date and Enroll Now
Frequently asked questions
What is a PMP® Certification?
The Project Management Professional (PMP) certification is a globally recognised certification offered by the Project Management Institute (PMI). It is designed to demonstrate that a project manager has the necessary knowledge and skills to successfully lead and direct projects. It is the most sought-after industry-recognised certification for project managers.
What is the PMP® Examination like?
The PMP examination is a 180-question multiple choice exam that tests your knowledge and understanding of the three project management domaine area. People, ( 42% ) Process, (50%) Business Environment (8%).
What are the requirements for PMP® ?
To be eligible for PMP certification, you must have either a secondary degree (high school diploma, associate's degree or the global equivalent) and at least three years of project management experience, with 4,500 hours spent leading and directing projects and 35 hours of project management education.
What is the cost of the PMP® ?
The cost of the PMP certification depends on your membership status with PMI. The cost for a PMI member is $405 USD, while the cost for a non-member is $555 USD.
Since the beginning of 2022, PMI has reduced the price for Africa and other region considered low income countries. It costs less in Africa ( www.pmi.org )
How do I obtain the PMP® Certification?
To obtain the PMP certification, you must complete the PMP application, pass the PMP examination, and agree to adhere to the PMI Code of Ethics and Professional Conduct.
Why i should chose Woloyem ?
Beside that we have great pricing and payement schedule. Our teachers make sure while you are prepare to pass the exam successfully, you also understand and apply the topic in your professional and personal life.
How long does it take to become PMP certified?
Depending on the experience and dedicated time, it typically takes between 3 weeks to six months to prepare for the PMP certification exam. We will motivate the best we can, however its mostly depends on your discipline.
How long is the PMP certification valid?
PMP certification is valid for three years. To maintain your PMP certification, you must earn 60 professional development units (PDUs) during the certification period.
PDUs can be earned through activities such as attending PMI-approved events, attending PMI seminars, self-directed learning, and volunteering.
What are the benefits of PMP certification?
The benefits of PMP certification include increased job security, higher pay, greater career opportunities, and improved customer confidence. PMP certification is also a great way to demonstrate to employers your commitment to the profession and your knowledge of project management.
Our tRAINERS
Meet the team
Essowe Abalo
PgMP®, DASSM®, PMP®, PRINCE 2®, PRINCE 2 AGILE®, ITIL v4 MP® CSM®, PSM®, PSPO®
Agile Enthusiast, Strategist, results-oriented, and innovative leader. Business Consultant and Change Agent with over thirteen years of proven experience. Extensive experience in IT Infrastructure, Software Development and Telco projects leading various size cross-functional teams delivering high-profile system management centre projects.
Mawusee Foli-Awali
PMP®, PSMI®, SAFe 6® Agilist
I have been using for years my bilingual (English and French) and technical skills in addition to my professional experience to share knowledge and empowering teams and organisations to achieve their goals. I will be more than happy to assist you in your decision to get new certifications.
Created with