ITIL v4® Foundation
Online Instructor-Led
ITIL® 4 Foundation - IT Service Management Certification
Empty space, drag to resize
ITIL 4 Foundation introduces an end-to-end operating model for the creation, delivery and continual improvement of technology-enabled products and services.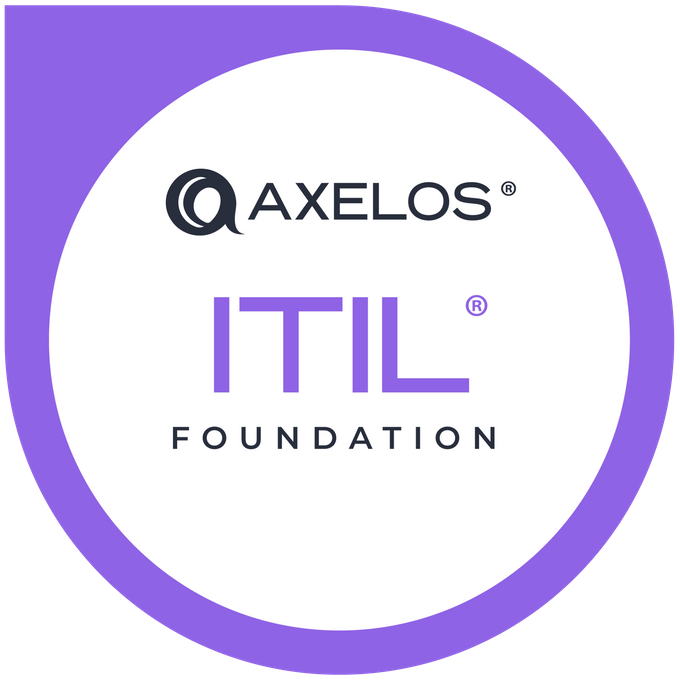 The course Overview
The purpose of the ITIL® Foundation certificate in IT Service Management is to introduce to the candidates to the management of modern IT-enabled services, to provide them with an understanding of the common language and key concepts, and to show them how they can improve their work and the work of their organization with ITIL 4 guidance. Furthermore, the qualification will provide the candidate with an understanding of the ITIL 4 service management framework and how it has evolved to adopt modern technologies and ways of working.


Course Objectives

Understand how the ITIL guiding principles can help an organization adopt and adapt service management

Understand the four dimensions of service management

Understand the purpose and components of the ITIL service value system

Understand the activities of the service value chain, and how they interconnect

Know the purpose and key terms of 18 ITIL practices

Understand 7 ITIL practices
What's included in this online course?
A step-by-step guide to support your progress
Join Woloyem's Academy for structured learning, clear guidance, and comprehensive exam preparation. Unlock your service management success!
Study in a group
Experience the power of collaborative learning in our group or self-paced. Gain diverse perspectives, shared knowledge, and mutual support for mastering project management principles.
Unique learning experience
Master project management with Woloyem's unique PMP Bootcamp. Innovative teaching, practical case studies, and real-world examples create a dynamic learning experience.
Risk-free, affordable plans!
Which plan fits your needs?
Instructor-Led
For professional trainers and online educators.
Self-Paced
For corporations and companies that offer training.
Created with